Chemistry makes a difference: "Combinations of active agents are the future"
| 08. Januar 2021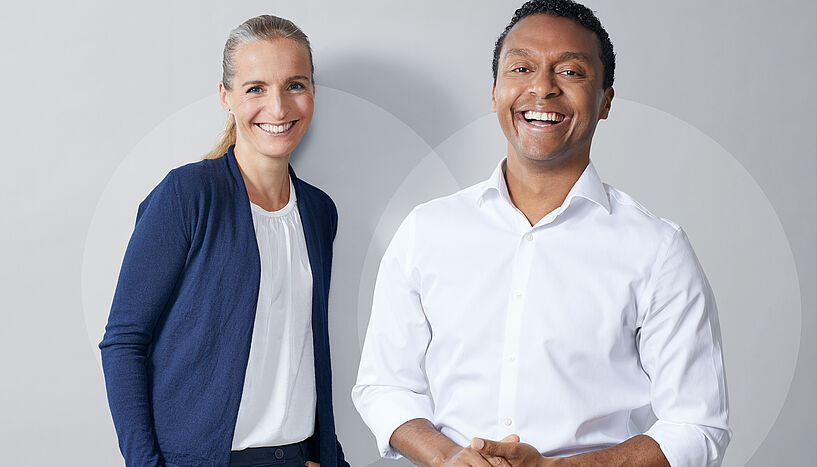 Chemist Nuno Maulide from the University of Vienna and Christiane Kofink from Boehringer Ingelheim jointly conduct research on innovative active agents. In this interview, they discuss how the cooperation between academic research and practice works and how this cooperation affects society.
In a nutshell
– The University of Vienna makes a difference together with the industry: The University of Vienna and Boehringer Ingelheim cooperate in synthesising and testing new active agents.
– This collaboration accelerates the development of active agents – a big step for society.
– Active agents of the future: In cancer treatment, the importance of combination therapy will especially increase.
uni:view: Together, you founded the Christian Doppler Laboratory for Entropy-Oriented Drug Design. What characterises your cooperation?
Christiane Kofink: I am a medicinal chemist working in the field of cancer research with Boehringer Ingelheim. The focus in this profession is on the design, synthesis and testing of new active agents. Nuno Maulide's expertise is an invaluable asset for us. For example, in developing synthesising methods, which is a time-consuming and difficult process. This is where we complement each other perfectly: We are responsible for the design of new active agents, while the University of Vienna is in charge of synthesising them.

Nuno Maulide: We need business partners to ensure that our findings from basic research reach the people in the form of pharmaceutical drugs and therapeutic approaches. On the other hand: When your work is exclusively application-oriented, you will not be able to reach new major findings. All in all, it is very important that universities cooperate closely with the business world. This collaboration can greatly accelerate the development of active agents, which thus has a significant impact on society.

uni:view: What issues are you dealing with in the laboratory?
Kofink: We conduct our research based on the knowledge that diseases are caused by changes in proteins and we try to specifically target these proteins. When treating cancer, we aim to focus on those proteins that have so far been untreatable. For example, every seventh cancer patient carries the so-called KRAS mutation. This demonstrates clearly how important a breakthrough in this area would be.
Maulide: You can imagine this type of research – put in a very simply way: An active agent works on its target like a key in a lock. There are many different locks. Not every key fits into every lock. Our challenge is to find the right key. We have not yet found the right key for so-called undruggable targets, such as the KRAS mutation.

Kofink: Let me give you an example of the impact this may have: There are mutations in lung cancer which, a few years ago, still meant a life expectancy of about one year after diagnosis for the patient. Meanwhile, we have drugs that give patients a life expectancy of four to five years.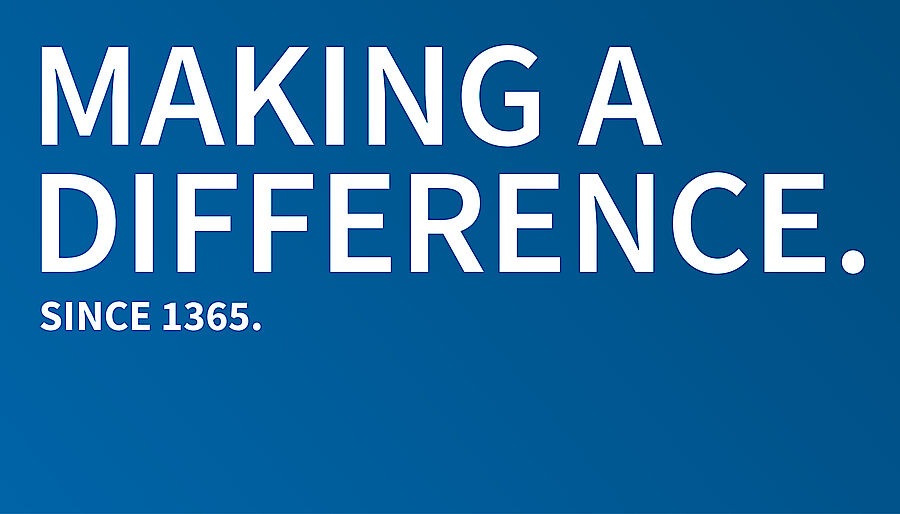 Making a difference. Since 1365.
The University of Vienna cooperates with the business world, culture and society in research projects. About 10,000 students graduate from the University of Vienna every year. The University prepares them for a professional career and encourages critical thinking and self-determined decision-making. As part of the thematic focus 'University of Vienna. Making a difference', we demonstrate the manifold ways in which the University of Vienna contributes to our society.
uni:view: What have you learned from each other while working together?
Maulide: Christiane Kofink has taught me how to work in a structured way in the industry and how to plan a research project. To be perfectly frank: At the University, I investigate issues that I am interested in. I ask questions for which we have no answers yet – this is my task. In the field of drug synthesis, however, we have actual practical influence: Medicinal chemistry in the industrial context cannot engineer new, rigid active agents because the effort required is too high. Errors in the design can have massive implications in an industrial context. As researchers, we are in a privileged position because Boehringer Ingelheim can tell us exactly what these rigid constructs should look like – we could never do this ourselves. We are then able to synthesise these constructs.

Kofink: From my perspective, it is fascinating to see that academics at the University of Vienna can think very freely and can constantly question the status quo. This makes it possible to keep trying new things. In the industry, we often lack the time to do so. This is why it is so important that universities cooperate with practice-oriented businesses.
Teaching benefits from practice
uni:view: Does your practical orientation change your approach to teaching at the University of Vienna, Nuno Maulide?
Maulide: My lectures benefit a great deal from the experiences I gain in practice. Every student wants to learn things that are connected to the real world. It is great fun (and it is the task of the University) to work at the intersection between research and teaching. It demonstrates clearly how we can improve the ways we teach the basics of our discipline and how we can best prepare our students for their future careers.

Why study at the University of Vienna?
The University of Vienna offers a wide range of courses and degree programmes. With more than 180 degree programmes at 15 faculties and 5 centres, it is the largest university in the German-speaking countries. As part of the 'Humans of University of Vienna' series, students explain what student life at the University is all about and why they decided to study at the University of Vienna.
Combining active agents in therapy
uni:view: Which active agents will help us as a society in the future?
Maulide: Active agent design as we have it today will remain important, but the structures of active agents are becoming larger and larger – and larger molecules can fulfil more functions. We can really look forward to the research conducted on this subject in the coming years. I believe that we will also further explore combinations of active agents that produce synergistic effects. Of course, we currently also need therapeutic approaches to treat COVID-19. As long as we have no widespread vaccination against it, active agents that treat the symptoms are essential.
Kofink: The pharmaceutical industry sees great potential in the targeted combination of active agents. Especially in cancer treatment, the importance of combination therapy will increase. This involves combinations of active agents that are administered at the same time or one after the other. Furthermore, specialists will continue to apply new therapeutic modalities in addition to classical inhibition. These include, for example, PROTACs (proteolysis targeting chimeras), which can transfer the damaged, unwanted protein to the cell's internal metabolic system. The first relevant clinical studies are already in progress and we are convinced that these active agents will attract a lot of interest in the future.

uni:view: Thank you very much for the interview. (bw)
Nuno Maulide is Professor of Organic Synthesis and Head of the Department of Organic Chemistry at the University of Vienna and has been 'Wissenschafter des Jahres' (researcher of the year) 2018.
Christiane Kofink is Principal Scientist Research Laboratory Head Medicinal Chemistry at Boehringer Ingelheim.