Language makes a difference: Narratives from the past, role models for the future
| 09. November 2020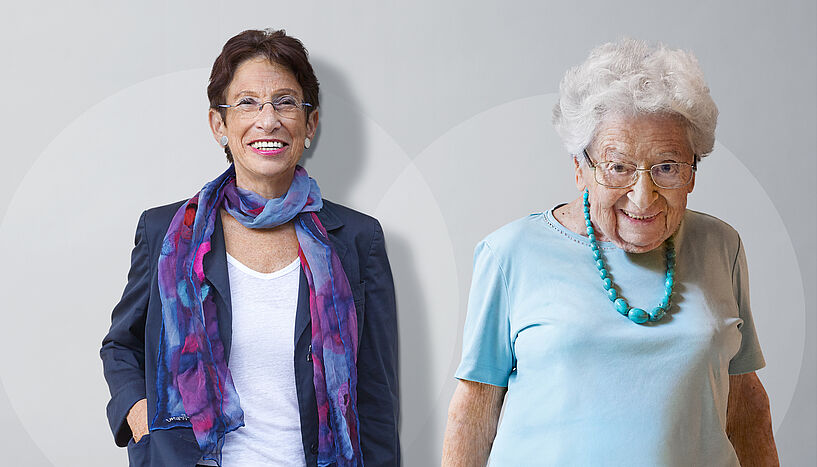 Susanne Bock, who celebrated her 100th birthday this year, obtained her doctoral degree in 1993 under the supervision of Ruth Wodak, linguist at the University of Vienna, and appeared afterwards as contemporary witness time and again. In this interview she tells us how her dream of studying came true.
uni:view: Susanne Bock, you celebrated your 100th birthday this year and you look back on a very eventful life. One of the milestones in your life is your studies in Linguistics at the University of Vienna after you retired. What were your reasons for this?

Susanne Bock: Retiring gave me the possibility to start a university degree in a third attempt. During the first attempt, in Vienna in 1938, I could not enrol on religious grounds. During the second attempt, I had emigrated and was living in England. When I began my studies at Oxford University, I had to give it up at the outbreak of war.
Susanne Bock was born in Vienna in 1920. When she was 18 years old, she witnessed the "Anschluss" of Austria to Nazi Germany in 1938. As she came from a so called assimilated Jewish family, she could not enrol at the University of Vienna as initially planned and had to flee. In England, she worked, among others, as nurse. After returning to Vienna in 1946, she worked, among others, as an editor for a British press agency. After her retirement in 1975, her dream of enrolling on the degree programme in Linguistics at the University of Vienna became true. There, she obtained her doctoral degree under the supervision of Ruth Wodak in 1993. After completing her studies, Susanne Bock wrote two autobiographical books and repeatedly appeared as a contemporary witness.
Professor Wolfgang Dressler, who was new to the University of Vienna then, advised me to study Linguistics in the 1970s. I had command of various languages and an understanding of how language works. And indeed, I began to study at the University. At the beginning, I felt like a complete stranger. Little by little, I found my way into the departmental operations and great friendships formed.

uni:view: Ruth Wodak, what was Susanne Bock like during her studies?

Ruth Wodak: Susanne Bock felt familiar already during our first encounter, especially due to her biography that resembled my parents' biographies, who were also refugees in England. Moreover, the fact that she wanted to fulfil her life dream belatedly touched me deeply. I was pleased that I could help her in this regard.

She integrated very well with the community at the Department, was always around and even brought Buchteln (jam buns) with custard to the department parties. Susi Bock was a model student. Based on her experience and her age, she naturally asked completely different questions compared to the young students. She absolutely enriched our department.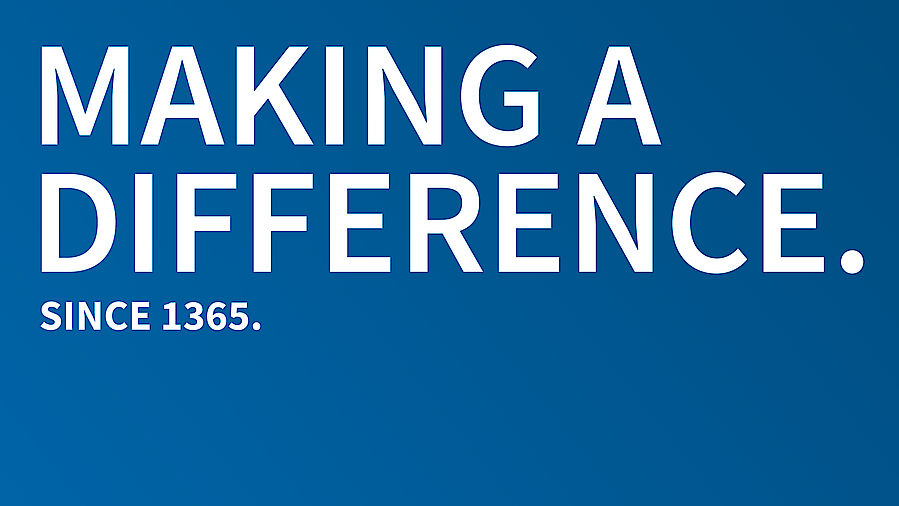 MAKING A DIFFERENCE. Since 1365.
The University of Vienna cooperates with the business world, culture and society in research projects. About 10,000 students graduate from the University of Vienna every year. The University prepares them for a professional career and encourages critical thinking and self-determined decision-making.
Susanne Bock: I encountered no major difficulties during my studies. I would have also been content with a Magister degree. But an active young person, who is currently sitting right next to me (smiles), was backing me all the way and spurred me.

Ruth Wodak: Her doctoral project was just amazing. Susi Bock dealt with psychotherapy communication and analysed the use of metaphors in therapeutic conversations and their meaning, which was completely new in Linguistics those days. I was especially impressed with the fact that Susi Bock started writing books after her dissertation and appeared as a contemporary witness. I just felt enormously proud of my former student. And I was so happy for her.
How does language make a difference?
"Discourses are embedded in a societal, social as well as material context. At the same time, a discourse constructs the social reality that it refers to. Therefore, it also inevitably transforms this reality. Naturally, this also applies to the historic collective and individual memory, to identity-forming and identity-shaping narratives, as well as to the past, present and future", so Wodak.

"Discourse analysis reveals how communication constructs social realities. However, it also enables the analysis of power positions and power shifts. Not all social actors have the same (power) position in the discourse. Consequently, their access to specific discourses varies, which means that they have different participation opportunities."
To the semester question "How does language make a difference?" (in German)

Susanne Bock: What could be nicer than hearing this from a teacher. (Laughs) People still read the autobiographical book, which I had written after completing my studies. My books – the second one describes the period after I returned to Vienna – repeatedly served as a basis for lectures that I could hold in front of a very interested, mainly young, audience.
Ruth Wodak, born in London in 1950, is an Austrian sociologist of language, discourse scholar and emeritus professor for Applied Linguistics at the University of Vienna and Lancaster University. Her research addressed identity politics, communication in institutions and political communication as well as prejudice research, in particular. In the course of her career, Ruth Wodak received numerous awards, such as the Wittgenstein Award (1996), the Vienna Women's Award (2006), the Grand Decoration of Honour in Silver for Services to the Republic of Austria in the area of science and art (2011) and the Lebenswerkpreis for her life achievements (2018). She was awarded two honorary doctorates (Örebro University, 2010; University of Warwick, 2020). Since 2020, she is honorary senator at the University of Vienna.
Ruth Wodak: Your lectures as a contemporary witness were incredibly important. My personal impression is that your studies gave you an authoritative voice ¬ shaped by the knowledge and the experience of your studies on the one hand, and your life experience, on the other. This absolutely unique combination gave you your status as a role model.

Susanne Bock: But I have to confess that preparing my story for lectures is a little bit troublesome now, with 100 years. It is not as easy as it was with 80 or 85 years, when I was still young (laughs).

uni:view: Thank you very much for the interview. (td)