Mark Coeckelbergh: Close encounters with robots
| 26. April 2017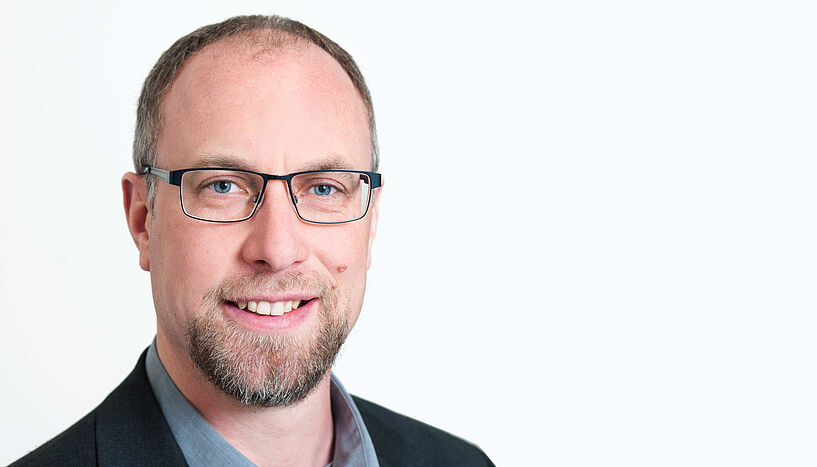 What is a human? What are social relations? Thinking about robotics and artificial intelligence is dealing with big philosophical questions. uni:view talked to Mark Coeckelbergh, philosopher of technology, about the ethics of robotics, his daily work and personal balance.
In 1997 a chess-playing computer, developed by IBM, for the first time won against a human world champion. At the same time, 22-years-old Mark Coeckelbergh left his Belgian hometown Leuven in order to begin a Master's in Philosophy at the University of East Anglia in the UK.

Intelligence exhibited by machines has developed rapidly since then – nowadays chess computers shake off humans by far. Today Mark Coeckelbergh is Professor of Philosophy of Media and Technology at the University of Vienna and smart machines are his daily business: "By thinking about artificial intelligence you are actually doing philosophy: What are humans? What are social relations? Going from technology to bigger questions – this I find exciting."

Concepts, theories and the "real" world

His interest in technology grew after he had finished his PhD at the University of Birmingham. He was involved in a project on engineering ethics, which was a way for him to link back to the "real" world. Since then he has been doing research on the ethics of robotics and artificial intelligence – "writing from a distance", as he calls it. At the same time he is working together with people developing robots and he talks to people in technology companies such as Google and Apple.

Daily work of a philosopher

An example: New technologies do things for us and make our lives easier, at least that's the claim. Currently, companies are working on robots designed to support elderly people in their daily life. If these robots work perfectly, elderly people will be able to stay in their own homes in their familiar environment. "That's good on the one hand, but on the other hand, less people will come by to visit, which will change the social network of elderly people – for the worse. These are questions I would raise with developers", says Coeckelbergh.

For Coeckelbergh there has to be a dialogue with companies and discussions about the long-term consequences of technological innovations are vital: "I am always quite critical about technology but I try to get involved in a more productive and proactive way instead of leaving it all to the companies."

More than one point of view

The technical point of view is just one way of looking at technology. Recently, Coeckelbergh has been reaching out to people involved in the art world, such as artists and curators. "Artists experiment and explore with technology in a different, often more radical way. Broadening your view and getting in touch with these forms of thinking is important as well", claims Coeckelbergh, who is involved in organising an art festival in Vienna that will take place next November – and will put a robot on the stage.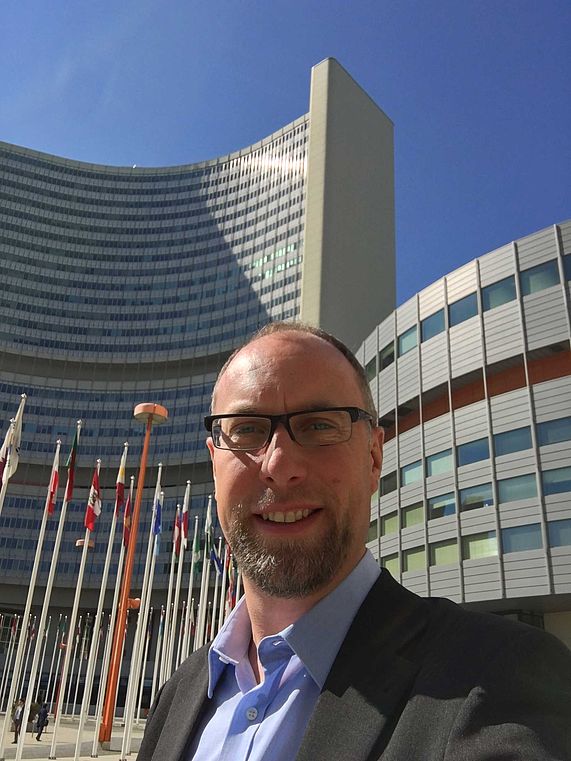 Mark Coeckelbergh on his way to a meeting about technology in a global context at UN Vienna (Photo: privat)
A taste of different traditions
Not only reading texts, but forming your own ideas and arguments: That's what Mark Coeckelbergh recommends to his students. When he went to the UK, he was challenged to do just that. "It's important to go abroad, to taste different traditions. With a new language comes another way of thinking, in daily life as well as in the philosophical work. And it is good to learn from different people and environments."

All over Europe

It seems like the 42-year-old professor follows his own recommendations: From Belgium, to the UK, to the Netherlands, to Austria – Mark Coeckelbergh has lectured, done research and won prizes all over Europe. He likes his current position at the University of Vienna and is not thinking about leaving Vienna: "The institution has a long tradition in philosophy and is great to create a new network. Besides, Vienna is a very attractive city to live in."

Nature as an antidote

Whenever he has free time he explores the city's vibrant art scene, does Kung Fu, plays music, goes hiking or does sports – not on a fitness machine, but rather outdoors: "Here and there I like to get away from machines. To me being in the nature is like an antidote to the alienation that we experience by sitting in office buildings and apartments." (hm)

Mark Coeckelbergh's inaugural lecture "The Language of Technology, or Thinking Through Language and Other Technologies: Opening Techno-Logical Investigations" will take place on 10 May 2017 at 17:00 at the Main Ceremonial Chamber (Großer Festsaal), University of Vienna, Universitätsring 1.

Downloads:
Einladung zur Antrittsvorlesung (pdf)
Antrittsvorlesung_Coeckelbergh_Web.pdf