Sebastian Schütze has been elected as Rector of the University of Vienna
30. April 2022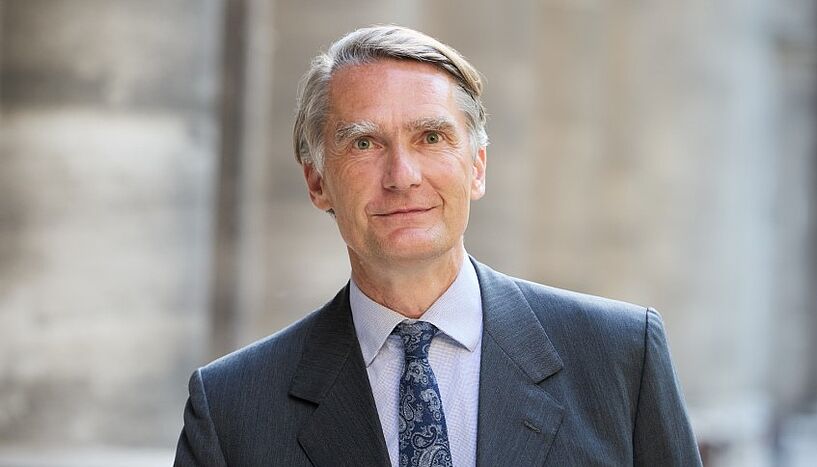 Sebastian Schütze could impress with his personality and competence and was unanimously elected by secret ballot
The University Board of the University of Vienna has elected Sebastian Schütze as new Rector of the University of Vienna in today's meeting. Following an international selection procedure, accompanied by recruitment consultant Egon Zehnder, the Senate proposed three short-listed candidates without ranking. The three candidates had their final hearing with the University Board today. Sebastian Schütze could impress with his personality and competence and was unanimously elected by secret ballot. The term of office starts on 1 October 2022 and lasts four years.
"We are glad that we could win Sebastian Schütze for the management of the University of Vienna, who is an outstanding academic personality competent in management. His concept of advancing the international visibility of the University of Vienna was convincing as well as his way of positioning today's grand topics also with regard to the social responsibility of the University in research and teaching", explains Eva Nowotny, Chair of the University Board of the University of Vienna.
Sebastian Schütze: "The University of Vienna is the oldest University in the German-speaking area and is one of the leading research universities in Europe. As new Rector, I would like to continue this tradition and the successful course of excellence and internationalisation, and position the University in the areas of teaching and research on a national and international level strategically for the future. Especially important here is basic research, the role of the University as Austria's most important academic educational institution and its social contribution to grand topics of the future, ranging from digital transformation, health, climate and environment to migration, mobility, understanding democracy and political education."
The University Board is convinced that under the leadership of Sebastian Schütze, the path of success of the University of Vienna under Heinz W. Engl can be continued and that we can address current challenges with new concepts and energy.
The University Board would like to thank all persons who participated in the complex selection procedure for the mutual cooperation, especially the Senate, chaired by Michael Viktor Schwarz.
About Sebastian Schütze
Following important academic positions at the Freie Universität Berlin, the Bibliotheca Hertziana (Max Planck Institute for Art History) in Rome and the Queen's University in Kingston/Canada, Sebastian Schütze has been Professor of Modern Art History at the University of Vienna since 2009, as well as Dean of the Faculty of Historical and Culture Studies since 2018. He is a full member of the Austrian Academy of Sciences. His research focusses on Italy's art history and cultural history, the history of collections in Vienna and Central Europe as well as the productive interactions between literature and visual arts. A matter of particular concern is making his research findings accessible for a larger audience, also in international exhibitions.
Interview enquiries:
The new Rector as well as the Chair of the University Board are happy to answer any media enquiries. Please schedule an appointment with presse@univie.ac.at
Further inquiry
Mag. Cornelia Blum
Leitung Kommunikation & Pressesprecherin
Universität Wien
1010 - Wien, Universitätsring 1
+43-1-4277-100 12
+43-664-602 77-100 12
cornelia.blum@univie.ac.at
Downloads:
Sebastian Schütze (© Johannes Hloch)
Sebastian_Schuetze_CR_Johannes_Hloch.jpg